Due to the COVID-19 outbreak, all Cranford Historical Society programs and Crane-Phillips House Museum Tours are cancelled until further notice. 
Our office is open during the following summer hours:
Tuesday, Wednesday & Thursday from 9:30-11:30 AM
Anyone wishing to do research or to drop-off a donation to our archives department, please do so during this hours.  We are requiring that you please wear a mask when visiting the office.  
On February 6, 2020, Cranford High School celebrated the renaming of its library as the Dr. Deborah Cannon Partridge Wolfe Library and Learning Commons. This event marked a culmination of the Society's work to make known the extraordinary accomplishments of a distinguished Cranford citizen. To honor both Dr. Wolfe and the event, the Society presented a plaque to the library.
Click here to read more about the renaming ceremony.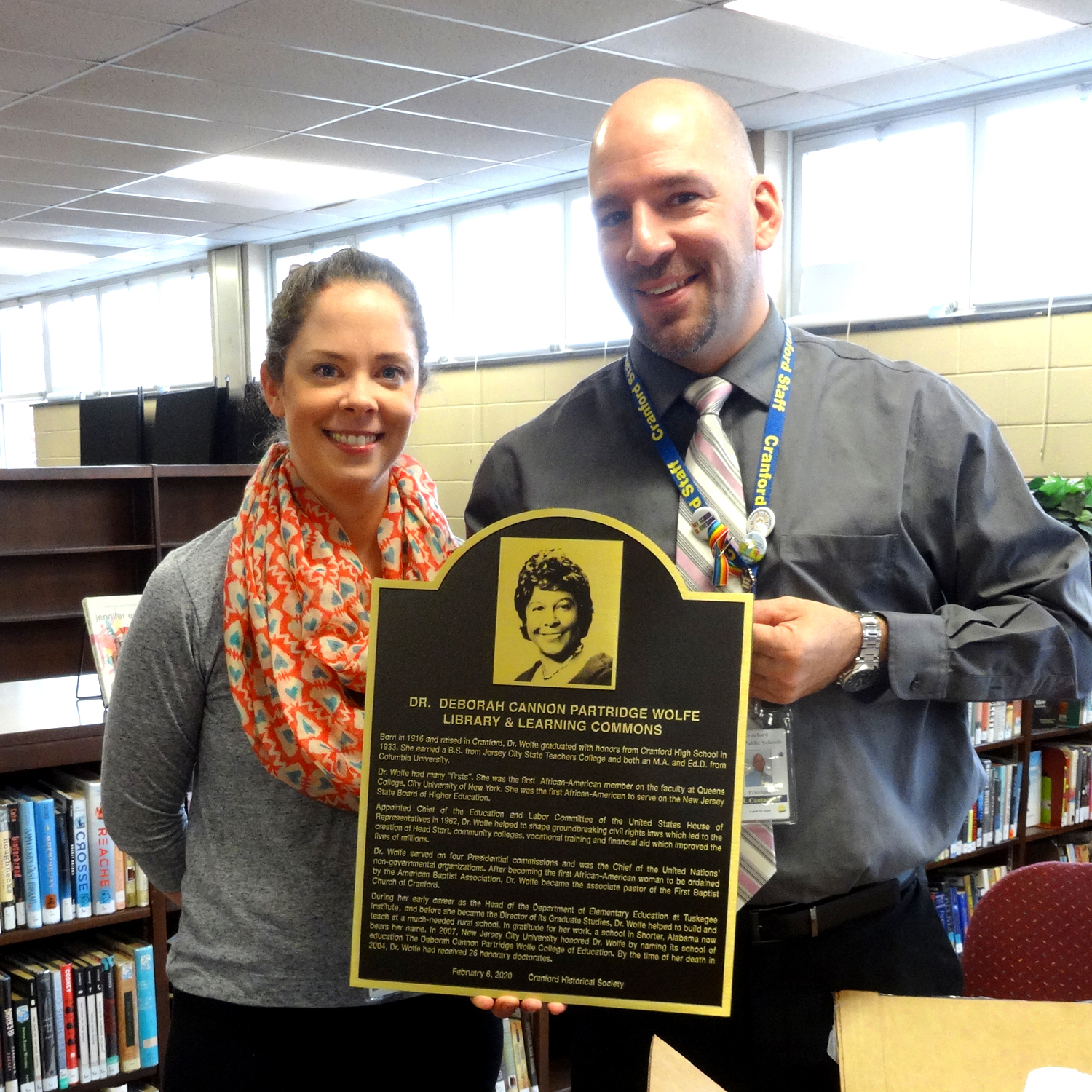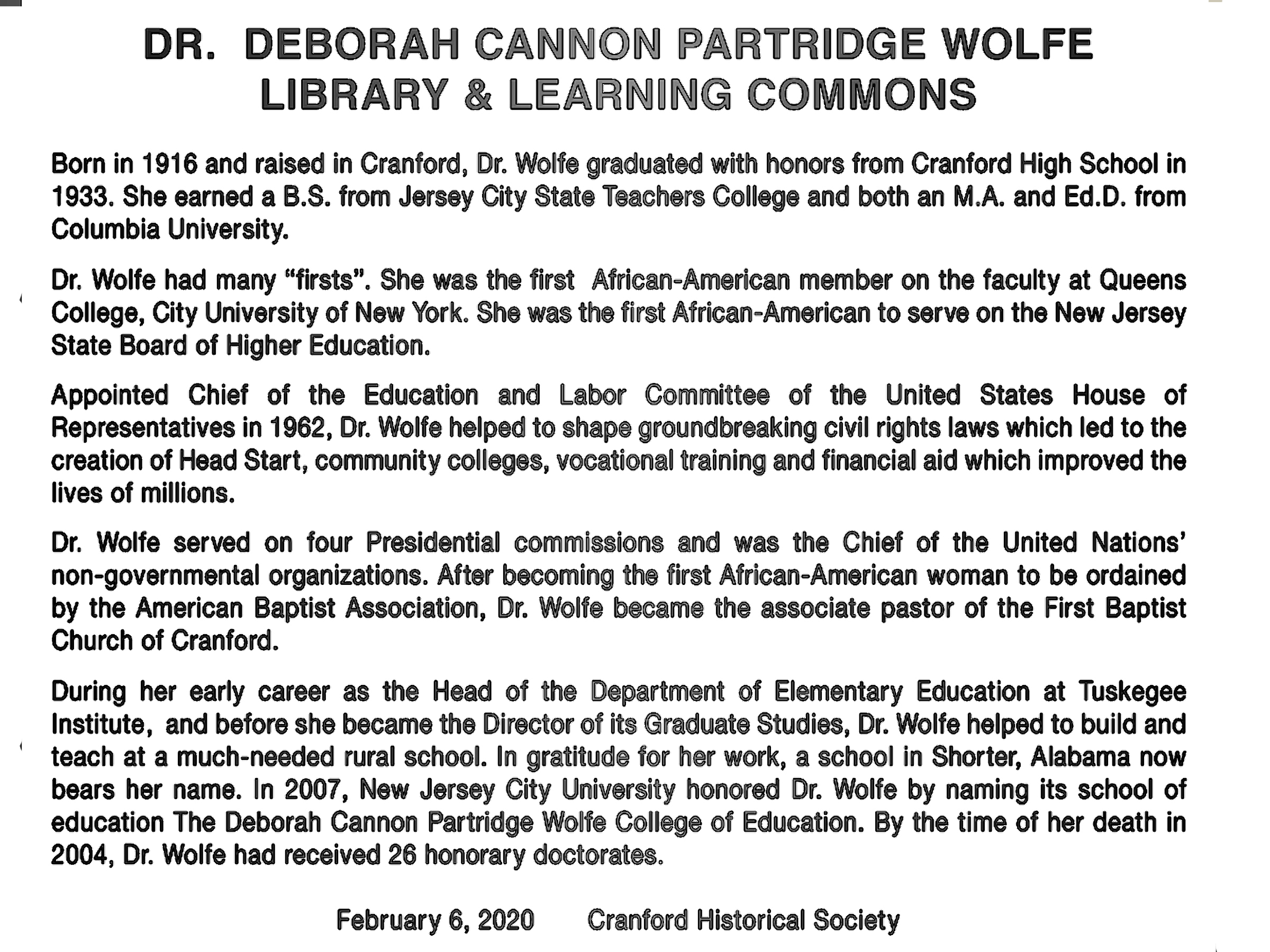 Congratulations to the Cranford Movie Theater and the owners of 37 Algonquin Drive in Cranford for being the 2020 recipients of the Cranford Preservation Award.
The Award, sponsored jointly by the Cranford Historical Society and the Cranford Historic Preservation Advisory Board (HPAB), is given annually to owners of a residence or a business who have helped preserve and maintain the history and character of Cranford.
Because of COVID restrictions, the Award wasn't presented at an in-person ceremony this year, and a certificate that cited both properties for their restoration efforts was delivered to the recipients.
Click here to read more about the award winners.
A Message from the President
On behalf of myself and the Cranford Historical Society, for those in the community who have lost a loved one due to this virus pandemic, or any other illness, or tragic circumstances, at this time, our Deepest Sympathy.
Our Heartfelt thank you to all our HEROES on the frontline.  Your service is greatly appreciated.
To our Community, don't let your Hearts be troubled, keep the Faith, take the precautions and soon this pandemic will be a thing of the past where we can resume the new norm in our lives.
Take care,
Margaret Gerlach/ President
Dear Residents, Township Committee, Mayor, Police Dept., Fire Dept., First Aid EMT's, Store owners, Store workers, Doctors, Nurses, Postal workers, DPW workers, Churches, Schools, Organizations and anyone else who has a role in the community,
During these challenging times we are going through with the Coronavirus, we are going through it together. This virus will be a thing of the past leaving this fantastic town even a stronger community. We would like to ask you to please help us document life in Cranford during the pandemic of 2020. Future generations will want to know what daily life was like, how our lives changed, how we coped with the challenges we faced, how we celebrated recent Holiday events with and without family during this time and what you plan to do after this pandemic is long gone. We all have a story to tell so please share it with us. Your story along with any photo's and any artifacts you may have during this time will be appreciated and saved in our Archives and used to tell Cranford's response to the pandemic of 2020.
We would like to hear from you either by email or write to us. Our email address is: cranfordhistoricalsociety@verizon.net. Our mailing address is: Cranford Historical Society, 38 Springfield Avenue, Cranford, N.J. 07016.
If you would like to become a member of the Cranford Historical Society our membership form is on our website at cranfordhistoricalsociety.org. Our new website will be coming soon with more informative information preserving the History of Cranford.
Looking forward to hearing from you.
Stay Well, Stay Happy, Stay Safe, Keep Smiling.
Sincerely,
Margaret Gerlach/President
Cranford Historical Society
Happy 149th Anniversary
To the Township of Cranford
Incorporated March 14, 1871
Those who live in Cranford know how unique this fantastic town is.  Aside from being a family oriented and friendly town, our forefathers came from England to start their home life. In the 1690's, the Denman family were the first to acquire parcels of land on the south side of town and in 1720, they established their homestead.
In 1716, John Crane's family came and made their homestead on the north side of town, each family cultivating the soil as farmers. The Crane family also built a grist mill and saw mill along the Rahway River. Their homestead was where Gray's Funeral Home is today. Still standing there is the oak tree near their parking lot. Josiah Crane Sr. born in 1791 in his elder years was known as the Father of Cranford owning all the north side of town. As developers came in he sold parts of his land. At this time, Cranford was called Cranes Mill and then later called Cranesville. As the town built up and more people settled in Cranesville, the town was incorporated in 1871 and renamed Cranford. Josiah Crane Sr. died in 1873.
If you would like to know more about the history of Cranford, visit our Facebook page and Website (cranfordhistoricalsociety.org) or come into our office at the Hanson House, 38 Springfield Avenue, Monday thru Thursday from 9:30am to 12:30pm and visit our archives room. Due to the Coronavirus, however, our Hanson House office and the Crane-Phillips House Museum will be closed until further notice.
We are a strong community and urge the community to keep the faith, don't panic, take the precautions and stay well. Soon this virus will be a thing of the past and we will emerge from this even more so as a stronger community while history is being made.
The Cranford Historical Society's mission has been and still continues today to preserve and perpetuate the history of Cranford, whether it be homes, businesses, the people and etc. since 1927. So when our 150th anniversary in 2021 arrives, let's celebrate making history once again.
If you would like to become a member of the Cranford Historical Society our membership form can be located on our website, at the Hanson House office and the Cranford library.
By: Margaret Gerlach, President, Cranford Historical Society